Abt Railway
Tasmanian West Coast Wilderness Railway
Client: Hazell Bros Civil Construction
Environmental advice was sought during the design and construction of a tourist railway along an existing and derelict rail formation on the west coast of Tasmania to ensure protection of environmental and heritage values.

Key Issues included acid drainage from mine tailings along river banks, rehabilitation of embankment fills, and protection of water quality. Prevention of weed infestations and protection of threatened species, heritage bridge features and artefacts were also imperative.
Project components included the review of environmental assessment reports, conditions of approval, management of permit conditions and other requirements of various government authorities. 
A major project component was the preparation of a Construction Environmental Management Plan to addressed general construction, acid leachate control, bridge paint stripping, and heritage and geo-heritage features.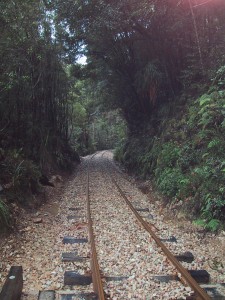 The CEMP included the identification and mapping of significant vegetation to be retained and a recommendation to shroud the Iron Bridge to prevent lead-based paint entering King River during repainting.
A concept design for the construction of an access road at Rinadeena was developed and an environmental management plan prepared for Australian Government approval.
Attendance to site environmental issues was required at the commencement of construction and bulk earthworks, and throughout construction on a range of specific issues. Regular and routine site audits were conducted during the construction phase to ensure compliance with environmental requirements.
The project succeeded in maintaining Heritage structures and creating a successful tourist venture while protecting the surrounding environment.