Stormwater Wetland
Kingston
Client: Kingborough Council
Untreated stormwater had been entering Whitewater Creek and Browns River causing pollution and related health impacts. Millin EMS designed and managed construction of a wetland system to treat storm water with the objective of creating a community and ecological asset.
Key Issues included stormwater surges and gross and nutrient pollutants within Browns River. This was causing significant pollution of Kingston Beach, the main beach in Kingston.
Project components included the assessment of storm water runoff characteristics and the design of a constructed wetlands system to deliver storm water treatment while creating a suburban recreation area.
Milin EMS oversaw the detailed design, earthworks and construction of the wetlands system.
A wetland management plan was prepared and an associated maintenance and monitoring program was implemented to ensure optimum treatment performance.
In order to ensure optimum performance a number of riffle zones and bypass structures were included in the design. Landscaping featured aquatic and terrestrial native plant species chosen for low maintenance, ecological value and visual amenity.
Walkways, bridges, seating and an environmental interpretation panel were included to encourage recreational use of the area. Community interpretation panels within grassed areas adjacent to the wetlands provided an educational resource and cultivated community interest and pride in the project.
In order to provide integration with Kingston area as a whole, concepts for additional wetland treatment systems and detention basins were prepared for upstream areas. In addition main street infiltration zones (rain-gardens) were designed and constructed within the Kingston Central Business Area.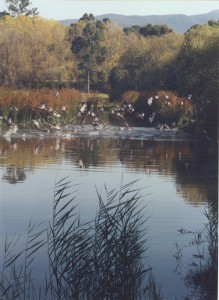 These subprojects included creek assessment and rehabilitation advice including weed removal, revegetation of riparian areas and bank stabilisation.
Wetland construction enabled an environmental issue to be transformed into a community asset.